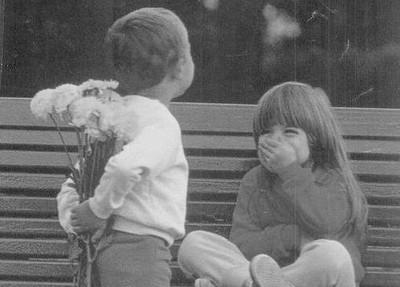 Często zastanawiam się, czy takie doraźne pisanie wpisów ma sens – w ostatni dzień lata "Last Day of Summer" The Cure, w Boże narodzenie "Belive" Gus Gus, jesienią "Autumn Leaves" Coldcut itd. Trochę to łatwizna, ale koniec końców fajna gra skojarzeń, więc nie będę się krygował.
Właśnie płonie Most Łazienkowski w Warszawie, więc powinienem wrzucić "Smoke on the Water", albo "Dym" Bolca, ale się powstrzymam, bo to zbyt oczywiste. Dziś mamy jednak walentynki. Święto, jak wiemy, zachodnie, a do takowych raczej nie mam słabości. Jestem w tej kwestii konserwatystą pierwszej wody więc 1 listopada, nie chodzę na imprezy helloweenowe, nie daję dzieciom żadnych cukierków, tylko każę karzę (piłeś, nie pisz) im czytać Mickiewicza i odprawiać dziady. Wolę zdecydowanie naszą słowiańską, pogańską tradycję niż te cholerne zachodnie naleciałości. Walentynki jednak toleruję, bo okazywanie sobie pozytywnych uczuć zawsze jest dobre i jeśli pojawia się ku temu pretekst, to warto go wykorzystać bez względu na jego proweniencję. Byle by nie być przez to całe przedsięwzięcie zbytnio sterroryzowanym.
Korzystając zatem z dzisiejszej okazji (choć już blisko 24.00) wrzucam 10 ładnych kawałków, co o uczuciach ładnie grają.
Florence And The Machine – You Got The Love (The XX remix)

Motor City Drum Ensemble – L.O.V.E.

Hird – Getting Closer

Sofa – On nie mówi

Depeche Mode – Goodnight Lovers

The The – Love Is Stronger Than Death

Smoke City – Underwater Love

The Cure – Pictures Of You

Chromatics – I Want Your Love

Erykah Badu feat. Stephen Marley – In love with you

A na deser:
Vegas – Motyle