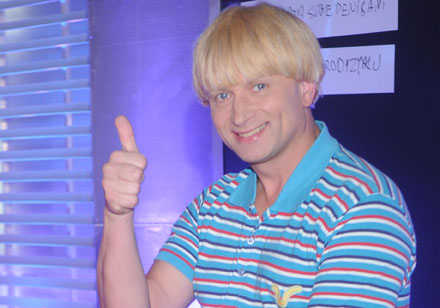 Przygotowuję większy wpis o obciachowych kawałkach, które lubię mimo, że są obciachowe. Będzie niezła siara, chociaż na pewno nie większa niż obecna kampania prezydencka, bo większej poruty nie można już chyba wyprodukować. Tymczasem małe preludium tego żenującego ekshibicjonizmu, czyli kawałki trącące nieco taniością albo przesadną słodkością, które mimo wszystko z jakiegoś powodu mi się podobają.
Tego wzdychającego hipstera wyhaczyłem w jakiejś reklamie perfum.

To jakąś dyskoteką z Eski trąca.

To było w Top Gear przy teście Jaguara XJ.

Jakiś weekendowy hit dla gimnazjalistek.

Tego się w sumie nie wstydzę, bo to naprawdę dobry kawałek, ale takiego popu na tej stronie miało nie być. Swoją drogą, Alicja Keys to jedna z niewielu gwiazd obecnego popu zasługująca na miejsce, w którym się znajduje.
A tu amatorska wersja z The Voice of Holland. Wymiata dziewczę nieziemsko.
Do przaśnej kultury rosyjskiej zawsze miałem słabość, w przeciwieństwie do czołgów T-80U, wyrzutni rakiet Iskander i Topol-M, okrętów podwodnych klasy Alfa, GRU i całej Armii Czerwonej.