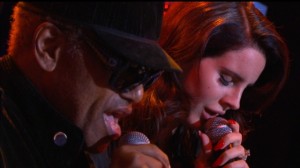 Witam w kolejnym pięknym roku, który zaczynam nieco popowo, ale bynajmniej nie oznacza to, że  na Nirgunie będzie bardziej popularnie w tym roku. Jakoś tak łagodniej chciałem się przywitać z nowym styczniem. Swoją drogą to nie mogę zrozumieć tych, którzy w sylwestra wywalają fajerwerki w powietrze już od samego rana. Taka mała zagwozdka. W Warszawie znów wieje tak mocno, że człowiek czuje się tak, jakby mieszkał na Azorach.
Ad rem. Muzyka popularna, oprócz tego że jest popularna, ma to do siebie, że często goniąc za swoim sukcesem schlebia gustom ogółu tak bardzo, że brzmi tak, jak możemy tego słuchać w radiu na co dzień, czyli zazwyczaj bardzo słabo. Na szczęście trochę dobrego wciąż można usłyszeć nie buszując po jakichś niszowych miejscach w sieci, tylko obserwując to, co się dzieje w mainstream'ie. Swoją drogą teraz dopiero, oglądając MTV czy nie daj Boże Eska TV,  można docenić na jak wysokim poziomie stał pop w latach '70, '80 czy nawet '90.
Poniżej, stary wyjadacz Womack, wziął do siebie na chwilę Lanę – która może i jest uszytym przez marketingowców produktem, ale produktem naprawdę atrakcyjnym – i pokazał, że można.
Bobby Womack – Dayglo Reflection (feat. Lana Del Rey)