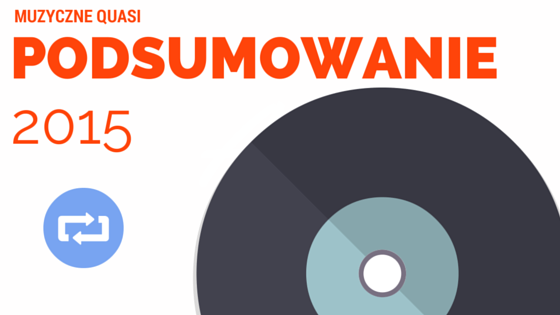 Ten wpis tak naprawdę nie jest czymś, co można by nazwać moim muzycznym podsumowaniem ubiegłego roku, bo z odsłuchiwaniem nowych wydań jestem tak na bieżąco jak z myciem lodówki. Nie przesłuchałem pewnie większości tego, co powinienem, a znając siebie, głębszą wiedzę o muzycznych perełkach 2015 r. będę miał gdzieś w 2018.
Wrzucam zatem w kolejności przypadkowej nieco utworów w myśl hasła "Kawałki, których mogliście nie słyszeć w 2015 a powinniście".
Później, w miarę czasu i chęci, będzie jeszcze druga część z muzą nieco bardziej wymagającą. Tymczasem:
Tame Impala – Let It Happen
Fajne i nieszablonowe.

D'Angelo and The Vanguard – Really Love
Jest klimat.

Alessia Cara – Here
Użyty tu sampel z Isaaca Hayesa "robi" chyba każdy kawałek w którym się znajdzie, chociaż najlepiej zagrał w "Glory Box" Portishead

Little Simz – Wings
Było już tu niedawno, ale tak mi się ten kawałek podoba, że będzie jeszcze raz. Klawa babka z tej małej Simz i świetna płyta "A Curious Tale of Trails + Persons"

Sufjan Stevens – Fourth Of July
Z bardzo dobrej płyty "Carrie & Lowell"

Kelela – Rewind

Anohni – 4 Degrees
Trocę to może i pretensjonalne i w drugiej części za patetyczne, ale i tak mi się podoba. Produkowali to Hudson Mohawke i Oneohtrix Point Never.

Dusky – Skin Deep
Fajny parkietowy kawałek.

Gregory Porter – Liquid Spirit (Claptone Remix)
I jeszcze jeden parkietowy śmigacz, co się może w karnawałowym czasie przydać.

Jamie xx – Loud Places (ft. Romy)
A ta dwójka to jednak razem rzadko robi złe rzeczy. Tu im wyszło wyjątkowo ładnie.

Ivy Lab – Twenty Questions
A na koniec bardzo dobry i klimatyczny drum'n bass.